Simplistic Website Design Ideas to Transform Your Online Presence.
Your website's design determines your visitor's or potential customer's first impression. Apart from domain attributes like loading speed and security, your web's design is one of the initial reasons why people decide whether or not to continue browsing your website and see it's content. Your web design is like an online version of a physical office or store and is a reflection of your brand. 
Which is why people invest so much time into creating the "perfect" web design to give their targets the best user experience possible.
Unlike web development which deals with the software aspect of how a website works, web design is focused on the impression of the website as relates to the layout and appearance of the website.
Web design is the process of creating an aesthetically pleasing and well-structured layout of contents on all the pages of a website. It entails working with different aspects of a website's design which includes:
Mobile-friendliness 

Typefaces

Typography

Colour

Images

Navigation

Alignment

Layout

Usability etc.
Web design is crucial because it affects how your audience see your business or brand. People still judge books by their cover so, you have to make a good first impression and maintain that impression with your web design. It is this factor that makes them turn the page or leave the book, especially if you have not established yourself as a brand.
There are millions of website – over 1.5 billion according to Netcraft – of different types (Magazine, E-commerce, Blog, Portfolio etc.) and all of these have different types of designs, good and bad, simple and complex. All of these designs have advantages and disadvantages. However, the goal of every web design is great user experience through maintaining interest and removing distractions and maintaining user loyalty and engagement. This is why many web designers opt for simplistic website designs.
What is simplistic website design?
Although there is no true definition of simplistic web design or an explicit description of its features, a simplistic or minimalist web design is one that uses a modest amount of aesthetics and a straightforward layout. 
Ever since 2017, the use of simplistic web designs, as opposed to complex and vivant designs, has been on the rise. Web designers now find that simple designs are a class on their own.
Basic elements of a great simplistic or minimalist design include:
Lots of white space.

A little amount of color with consistency on all pages.

Well-managed images.

Good interface.

Easy navigation.

Mobile and desktop compatibility.

Smooth Layout.

All the right buttons and CTA.
All these web design elements are advantageous to all types of websites, whether owned by a casino or a blogger, especially when other websites seem to compete as to who can be the most colorful. Simple web design is clutter-free and this helps both the designer and the user or customer.
The web designer doesn't have to worry about a jumbled user interface (UI) because the website will be devoid of unnecessary content. Moreover, this little amount of content makes the website load faster and still maintain a good user experience (UX).
I will explain more on how to use simplistic web designs but first, here are 5 examples of websites that have successfully used simple web designs.
Who says that white space must be white?
Description: Music streaming service.
Website: https://www.spotify.com/us/
Here is an example of the "less is more" saying. The Spotify website is both bold and simple with the homepage having less than 60 words which includes the menu options and contact information. 
The user can go through the entire homepage in a few seconds. Therefore, there is no need for the user to skim through a large amount of information because there are less than 5 frames on the homepage, and a lot of free space.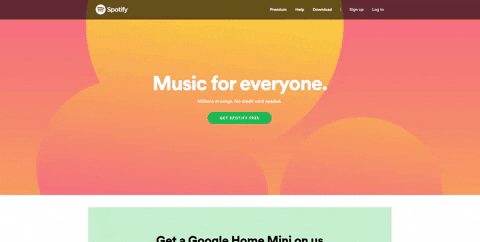 Instead of overwhelming the user with contents, the homepage was designed, not as information centre but like a simple navigation system. There are menu buttons (with two options) and CTA links to take you wherever you wanted. There is also lots of buttons and links on the lower page of the website.
The message was also kept very brief with only one image or graphic design.
The design had made good use of contrast with the white fonts on black background and on the colourful graphics, and the text colour was the same all through.They drew attention to the call to action by using a bright and contrasting colour on the "Get Spotify Free" button while making the audience desire the free stuff. Moreover, the loading speed is fast and the website also aligns well to desktop and mobile devices. 
Is there a rule that says e-commerce websites must be busy?
Description: e-commerce website (shoes).
Website: https://rothys.com/
This classic website loves their white space. This website is simple but not too plain to be boring. The first thing that greets you is a short video and then slides of a few quality images, just enough to ignite your interest.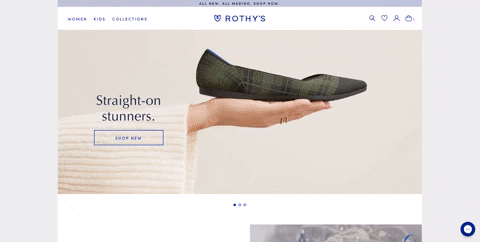 Did you note how the filter or preset of the images rhymed with their colour palette? This happens even in other webpages and gives the website an air of simplicity that allows the items to pop on the page.
The other thing I liked apart from the simple setting is the consistency in the style, images, colours and fonts. The design made the website feel like exploring a physical store with a chic but classy atmosphere with just the right amount of details.
They kept the words short and impactful with CTA buttons to make people browse or shop some more. They also saved all the shopping categories for the menu buttons, giving the users time to explore as well as giving them a variety of options. 
They also used the contrast between the background and the fonts or the images of the shoes to capture the audience's attention and make them focus on the items and the CTAs.
All in all, it had a balanced and natural feel that makes visitors unconsciously explore without any problems. 
Portfolio websites can be cool too.
Description: Portfolio Website 
Website: https://www.marckuiper.com/
This cool portfolio website is just so simple and yet so brilliantly done that I almost teared up when I discovered it. Almost. The web design uses contrast well with the pitch-black background that makes one naturally focus on the texts and images, not mention the charming little introduction.
Instead of rushing to provide users with great specs, he gives a brief introduction with a catchy summary and continues with quality images that just compels you to click (I did).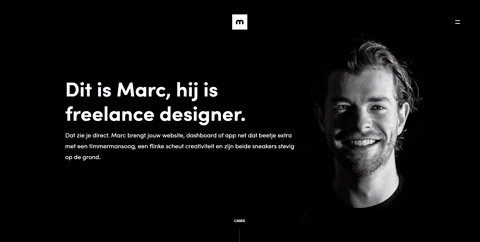 It is also scannable with well-structured frames and there is not much content so navigation is stress-free, especially with the menu button – which has four options – and CTA strategically placed all around and at the end of the home page.
There is also consistency seen with the colours, fonts, and layout around all the pages on the website. The website maintains a good user experience with speed and mobile-friendliness. It also retains the users' focus throughout the website.
All in all, it is not too serious and still provides all the necessary details.
You can learn from print.
Description: Magazine Website and Blog (eco-fashion)
Website: https://goodonyou.eco/
This website design maintains the "fun lifestyle" look that most fashion websites try to attain while still keeping it free of clutter.
Yes, I must admit, the website is kind of longer than the others mentioned today, however, I included it because it found a way to give all the information in a simple way.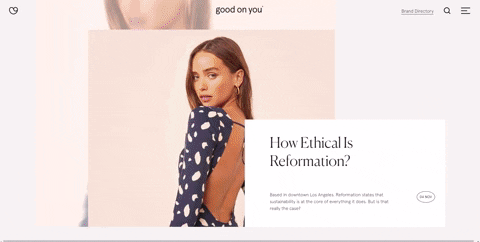 There was a brief description of the stories accompanied with quality images and lots of white space. The website kind of reminds you of how fashion magazines are organized. There's also consistency with font colour and text structure and navigation is made easier at the bottom of the page and with the menu and search buttons.
It is hard to find a balance between so much contents and simple web design style and I must say that Good On You achieved that with short sentences, CTA and good layout.
In case you didn't know…
Description: Restaurant website.
Website: https://www.thegregorybr.com/
Enticing users with beautiful images and increasing awareness with impactful messages while adding a smattering of CTAs, this is the way to go when your goal is to get more customers without being pushy.
This website uses simplistic design to organize the content into structured areas i.e., a continuous cycle of CTA and information. There is also lots of white space and neutral tones but the monotony is broken by the gold colour on black background.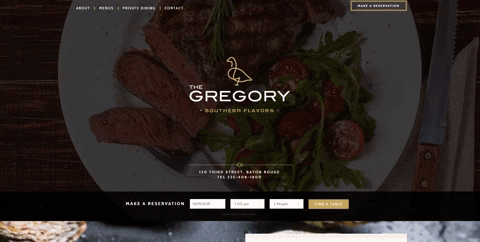 I am dedicating a whole paragraph to talk about the images of the food. You will notice that the images are not packed together but separated which gives the user time to digest each visual (and information) before moving on to the next one. Also, I don't know about you, but that website got me craving their delicacies.
The CTA was also brilliantly given, surrounded by information instead of demands. The menu button was also conveniently placed with four options.
All in all, the aesthetics and layout allowed for the user to understand the brand as well as get other information as quickly as possible.
In these 5 different types of websites, there are some common features that they all share despite their variations. They include.
They all have lots of white space and this gives breathing room to the page elements and enables the user to interact better with the website.

Because of the scarcity of elements, the user experience is increased as the user doesn't have to skim and can browse without stress.

Call to actions are plenty and often subtle, but strong none the less.

Menu buttons are little except in the e-commerce site where it was categorized. Nevertheless, it made it easy to navigate.

There was consistency around typography and colour palettes.

A minimal amount of images and videos were used and they weren't often grouped. They were all in good quality.

They were all designed for users.

Speed and other SEO optimization were present.

The websites are compatible with mobile and desktop devices.

They had a good flow of information to meet design goals.
The good news is that simple design works as well as other types of design, all you have to do is use it well. Here are some tips for creating a successful and simple web design.
Identify your plan: This is the first step to every great work. Here, you need to define your goals for the website as well as how you intend to meet them. You should also identify your target audience and set up metrics for success. If you just want to revamp your website, you need to know the problems to find the best solution. 

Create your first complete layout with images, CTA, and other elements. Make sure that the images are appropriate for your audience.

Design for the user first.

Check colour palettes and limit yourself to 3. The background should not be too loud and the font colour should be neutral. The colour of the CTA buttons should contrast with the background.

Reduce the length of texts and the number of images. Create categories for content and give brief descriptions instead.

Avoid lengthy sentences and be consistent with typography.

Add social share buttons and use one image per message.

Distribute CTA and improve navigation.

Check the size and quality of the files. Compress size to improve load speed.

Check for SEO optimization and mobile-optimization.

Do a series of tests.

Fix problems.

Check the layout and compare it to the set plans. Make sure that it is still focused on strategy and goals.

If you have more than ten images on the homepage, and too many sections on your website, start trimming.

Where's that white space? Simplify your interface.

Do another test focused on user experience.

Launch and do regular upgrades.

Check this space for more tips.
If you need help on your next website design, get in touch and we could guide you, consultation is free and we love to connect anyways. 
We will send you a text before we call 🙂